(Photo by Thomas Vimare on Unsplash)
And so I start the 4th week of learning how to user Twitter. Week 3 of learning to Twitters was not that eventful.
Off-Twitter was more exciting - I started building in public by getting my ducks in a row to revamp an old project of mine, RemoteReact.com.
I also did some validation for an idea with some rough landing page iterations, called Peeks.dev. Unfortunately there seems to be no interest in that at all, so I'll be binning it for the time being.  Maybe I'll try and reuse the domain name for something else at a later stage.
I do have another project lined up though, MakerFeed! MakerFeed will allow makers, indiehackers and nocoders to share their blog posts with a wider audience by adding them to a community blog roll. Think Medium, but only for makers. For more on that, watch my Twitter feed.
Now, back to my Twitter progress. I finally caught the second Twitter course mentioned in week 1 on a nice special, so now I can finally compare the two.
Two courses, two Daniels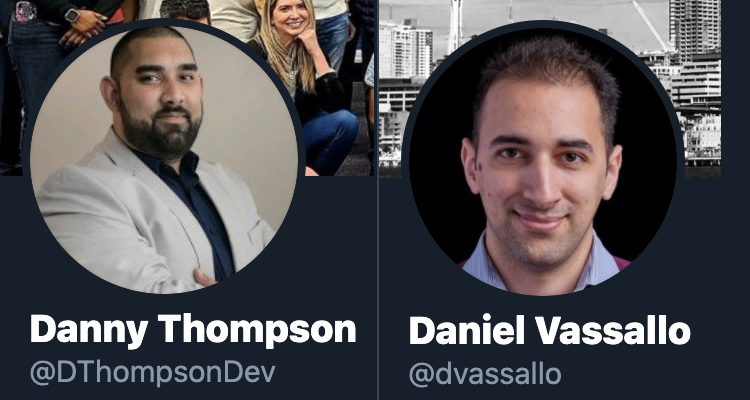 Here's my take on the courses offered by Danny Thompson and Daniel Vassallo to help you make an informed decision on which one to get.
Now, I feel I need to acknowledge that some of the folks who took to Twitter naturally might be confused as to why anyone would want to buy an actual course on how to use Twitter. They probably think that's pretty lame and fake.
But for people like me - people who really just didn't get it and who had no clue how to use if effectively - really do benefit from having a step-by-step guide on how the damn platform works.
And it's so worth it! - my world became larger and richer since it finally clicked. I had to be spoon-fed how to use it properly, and now that I've had a taste, I can't get enough.
Right, one more final disclaimer; both courses are roughly aimed at similar types of people: techies who likely code, or want to code for a living. BUT! If you're not part of this group, you can still benefit from either course, just be aware of the context. Danny in particular uses examples of people who are into makeup and cars too.
So let's talk about the courses themselves.
Daniel's course is called Everyone Can Build a Twitter Audience.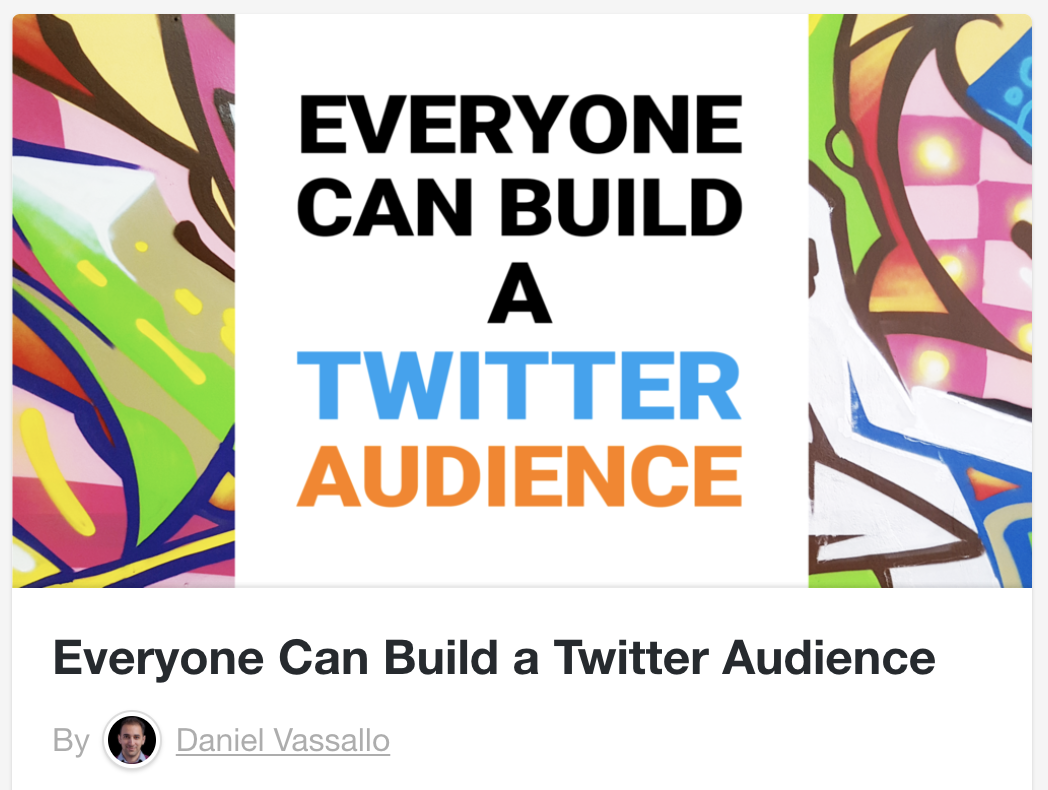 Danny's course is called Create Your Following: How I went from 0 to 30K followers in 90 days!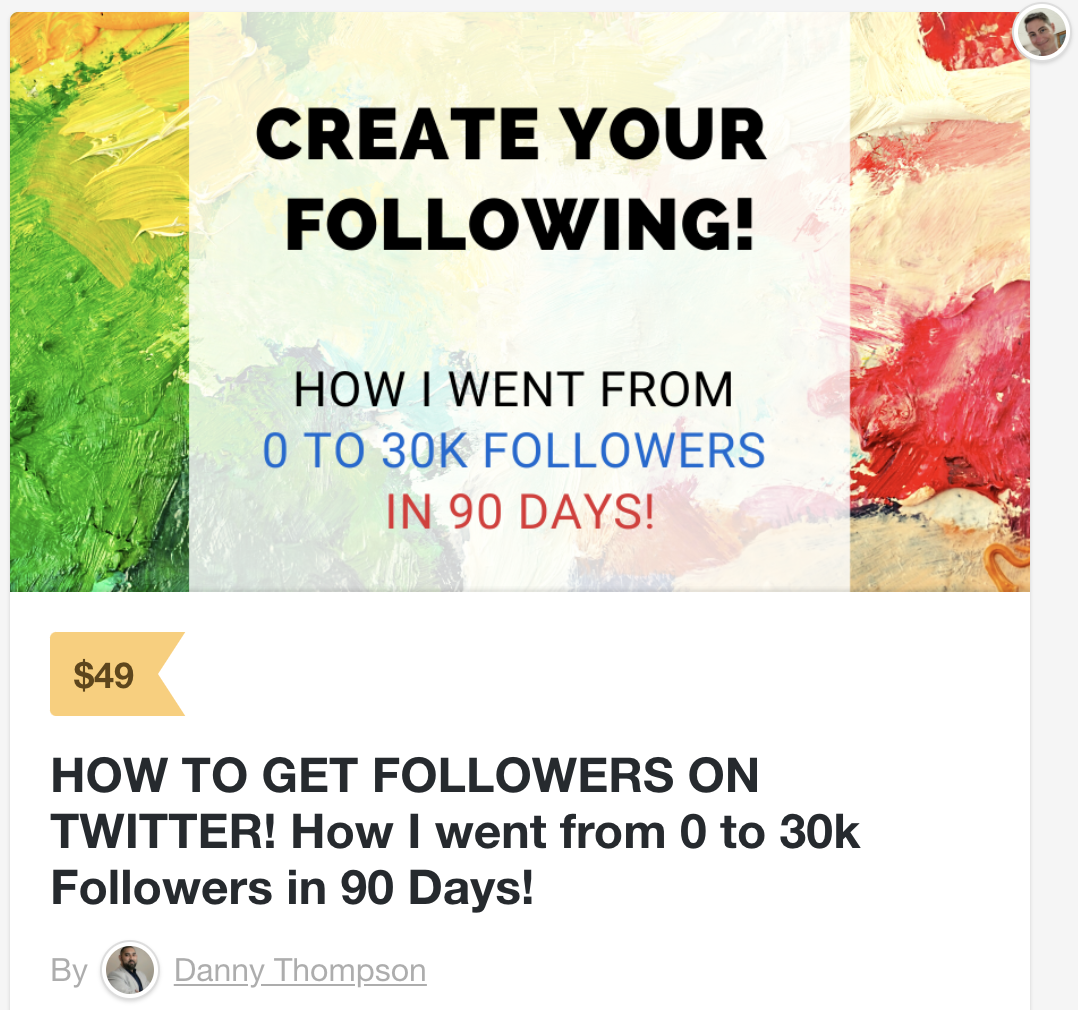 Both have very colourful sales pages and both were around $50 at the time of writing. Both course creators offer generous discounts on Twitter every now and then too, so stalk them a bit if you're a sucker for a good deal.
Let's start with the differences first;
Differences
I want to note that both course offers very similar content and that the differences below are really my own interpretations on the contents. There's really just a difference in emphasis.
That being said, here we go;
Daniel's course is 1h40m long, and Danny's is 1h05m.
Daniel seems to fall more into the creator/sharer side of the Value Spectrum, while Danny fits squarely into the motivation side.
Daniel offers extra value in the form of additional slides and a spreadsheet of some of his past tweets and their metrics, while Danny offers extra value in the form of being available for a free video call review of your Twitter profile.
Danny reckons it's imperative for optimal growth to choose a lane and niche down hard, while Daniel is more open to the idea of becoming an authority on multiple subjects.
Danny goes into detail about how to read and interpret your Twitter analytics, while Daniel focusses more on how to construct a proper Twitter follower funnel, and how analytics works into that.
Danny is all about interacting and having conversations with his followers, while Daniel is more about creating quality, interesting content that gives followers value.
Daniel seems to find tweet inspiration serendipitously, based on what's going on in his life, while Danny recommends creating a vision of what you'd want to be about, and then going about creating that vision.
Daniel goes into detail on exactly what to tweet, while Danny goes into a thorough analysis on how, when and how often to tweet.
Danny is slightly more focussed on showing you how to grow your audience using Twitter itself, while Daniel has substantial advice on how to grow your audience by leveraging outside sources to drive traffic to your profile.
Similarities
Both emphasise and walk you through optimising your profile to encourage follows.
Both emphasise and explain why engagement ratios are more important than the number of followers you have.
They have virtually identical advice on how and what not to tweet.
You'll get similar advice on the importance of off-site content, and how it affects and feeds into Twitter.
You can expect both to walk you through some example profiles of famous people, pointing out what they do right and what they do wrong.
Both will give you immediate, actionable advice on how you can improve your Twitter experience in general, and hopefully increase your audience size too.
Both will explain how likes, retweets, polls and links play into the likelihood of building a following, or how they can be driving people away.
Both emphasise the need to interact with other accounts, and how to know when to jump in a conversation.
Okay, so which one should you get?
Both courses are pretty much on par and would help anyone who's getting started or have small followings improve their Twitter experience quite a bit. But, having now gone through both courses, I feel that my earlier idea of the Value Spectrum holds up well.
So, gun to my head, if you're a more outgoing people-person, I recommend you get Danny's Create Your Following.
If you're a more introverted and get-to-the-point type, get Daniel's Everyone Can Build a Twitter Audience.
If you're mixed bag like me, get both? 😄🤷‍♂️
Week 4 - results
Ok, time for last week's results.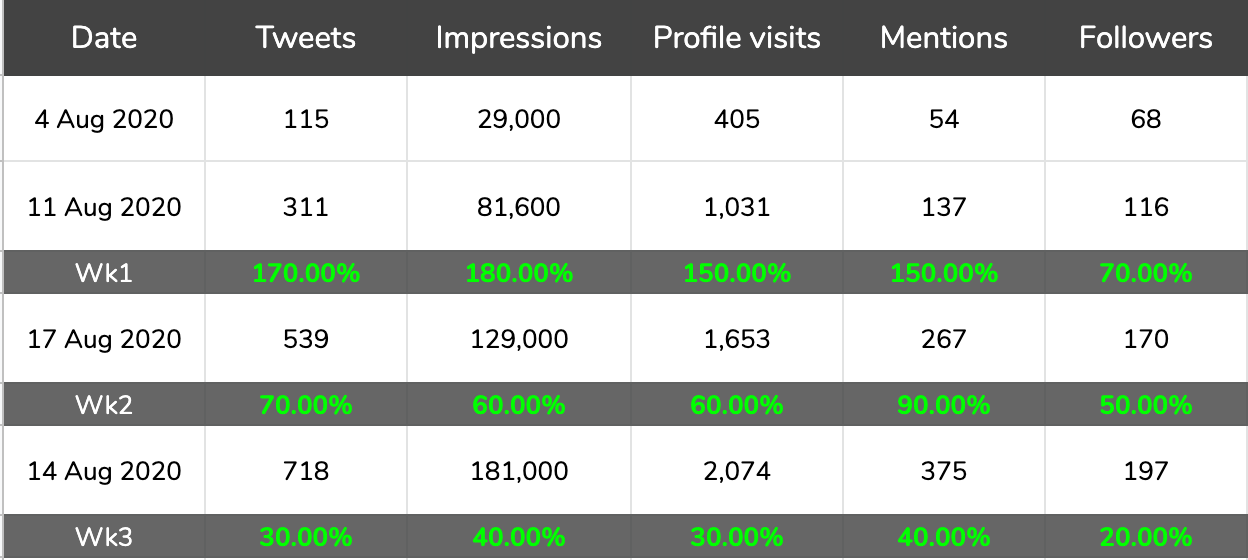 Well, this week didn't convert as well as the previous ones. Everything's pretty much halved.
I think this is more realistic though. The bump from week 1 was when I really started using Twitter for the first time, so doing anything was a big jump from doing nothing.
Week 2 was mostly good because of a Twitter handle sharing thread on IndieHackers. Usually a follow-for-follow strategy is not a good idea, because people are not incentivised to follow you for your content. Rather, just to get a follow back. In this case however, I think it was OK. I met some cool people and started conversations I wouldn't have otherwise.
Now, if I look at my follower conversion rate compared to last week, it's not that bad. I had 421 new profile visits and had 27 new followers. That works out to a 6% conversion rate, which, according to Danny Thompson is very good. I'll take it! 🤩
Going forward though, I don't think I'll experience the same level of growth I've had in the beginning. I'm definitely going to try, don't get me wrong, but I don't think it's realistic to expect a similar trend to continue.
My strategy going forward
Based on an amalgamation of the advice I got from the two Danny's, I'm tweaking my approach going forward a bit.
Specifically, I'll be niching down more, that niche being product makers.
I'm doing this for 2 main reasons:
To get more enjoyment out of my Twitter use by focussing on stuff that interest me 90-100%, not 80% or less
To concentrate my engagements with more focus.
This might be at the expense of my existing followers list, but I've taken to heart the advice that the quality of interactions and community experience is more important that quantity.
What this means in practice is that I'll be unfollowing a large portion of the people that don't fit my niche closely enough, and will be looking for more people that do.
I'll now be on the hunt for product makers and will be focussing my time and efforts on them exclusively, as opposed to the mixed bad of startups, programming, techies and VCs I have currently.
I confess I'm feeling a bit relieved - I'm not really all that interested in VCs or talking code the whole day. Previously I simply tried to follow as many people as possible assuming all this was just a numbers game.
This also likely means that I'll losing some followers in the next couple of weeks because I won't be tweeting things existing portions of my audience want to see anymore - but in the long run things should improve for the better. I hope. 😐
I've already started by updating my profile and bio, and will be switching direction sharply with the other content during this week. The kinds and frequency of tweets I'll be spitting out will also be different, so that's exciting too.
After I'm satisfied I've niched down enough, I'll spend some time analysing the tweets of accounts that do very well in it, and see if I can deliver similar value.
I'm not sure I want to increase the amount of tweets I do yet, I want to only tweet when I feel it's really worth it to my followers.
I will however try and increase my interactions though, and make an effort to strike up more conversations, either in open Twitter or with DMs. That's where the meat of the value is in Twitter anyway. Plus, it's likely to be the best way for me to get profile visits at this stage too.
Let's see where this goes. 😄